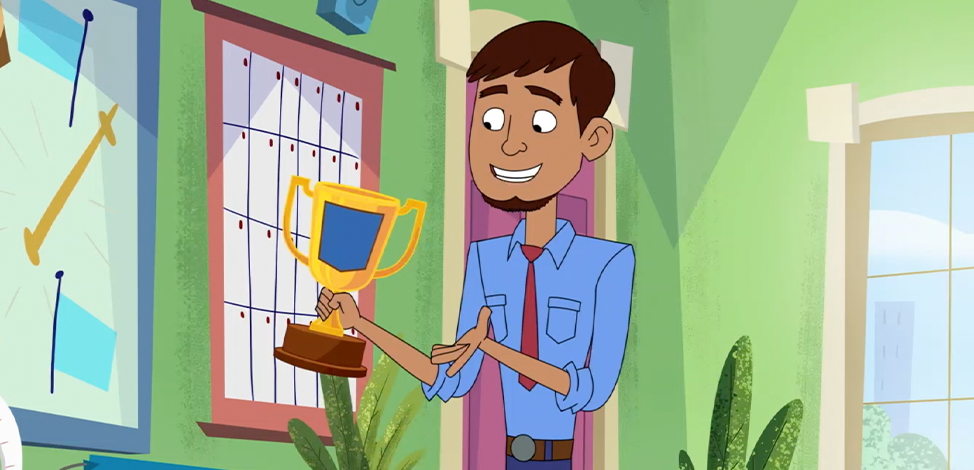 Teacher Appreciation Month
Buenos Días Young Heroes!
It's no surprise I love being a teacher. But it WAS a surprise when my students came to class with bubble balloons, a GIANT hand written card and a chocolate cake…all for me! It's Teacher Appreciation Month and Hero Elementary is honoring teachers like me and across the country who have gone above and beyond for their students. Today we thank teachers who get creative and work hard to help students learn all sorts of new things and inspire young heroes like you! AJ, Lucita, Sara and Benny wrote me the most wonderful note in my GIANT card, may I read it to you? Beuno! 
"Dear Mr. S,
You're such a great teacher. You always put us first. And you ask us questions that make us think. You help us become better heroes. And that's why we're giving you this card, balloons and cake!  Thanks for being the best teacher ever. You're our HERO!"
WOW, isn't that a special card from Sparks' Crew? I am truly honored. But of course I couldn't be a teacher without such wonderful, heroic students.  
Is there a teacher who helps you to learn everyday and makes you feel special? Make sure to let your teacher know how much they mean to you. Saying 'Thank You' is a powerful way to spread kindness to those around you.
So to all teachers, my students and to you: Let's make new hero memories, have new exciting experiences, and learn all kinds of new things. Oh and eat cake! 
¡Salud! Happy Teacher Appreciation Month!