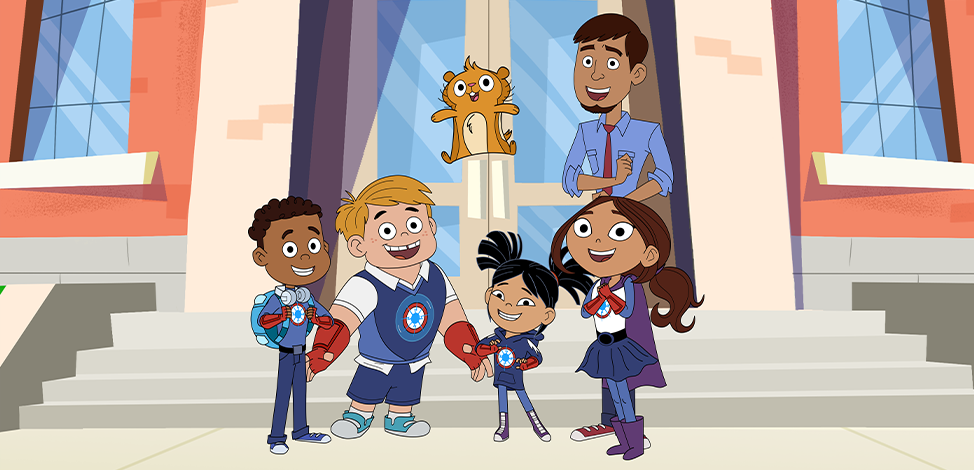 Ahh. It is a beautiful day in downtown Citytown… the sun is shining, the birds are singing…and the school bell is RINGING! It's another school day at Hero Elementary with my students, Sparks' Crew. Every school day with Sparks' Crew is filled with hero training, missions to help the residents in Citytown, and of course there's always time for recess! 
For some of you, today may be your very first day of school…. Felicidades! The first day of school is the MOST exciting day of the whole year. I remember the first day of school for Sparks' Crew….No one knew each other at first, but do you know what AJ, Lucita, Sara and Benny all had in common? They all arrived at school to LEARN! Sí, it's true! 
They asked lots of questions about one another, they shared stories about their superpowers, and they even powered off on their very first hero mission together: they saved the Citytown Animal Shelter AND they adopted their lovable class pet, Fur Blur. Sí, it was an exciting first day of school, but that was only the first of many adventures with my students! 
There is SO much to learn at school. You'll get to read books, be creative, you'll learn about the Superpowers of Science!…OH and my favorite, you will make new friends, just like Sparks' Crew.  And don't worry about making mistakes. Mistakes are wonderful, because we learn so much from mistakes!
Remember, what you learn becomes a part of who you are. And who you are is very special.  So on your first day of school, ask LOTS of questions, be kind and most importantly have FUN! 
Buena Suerte….Good luck, Young Hero!