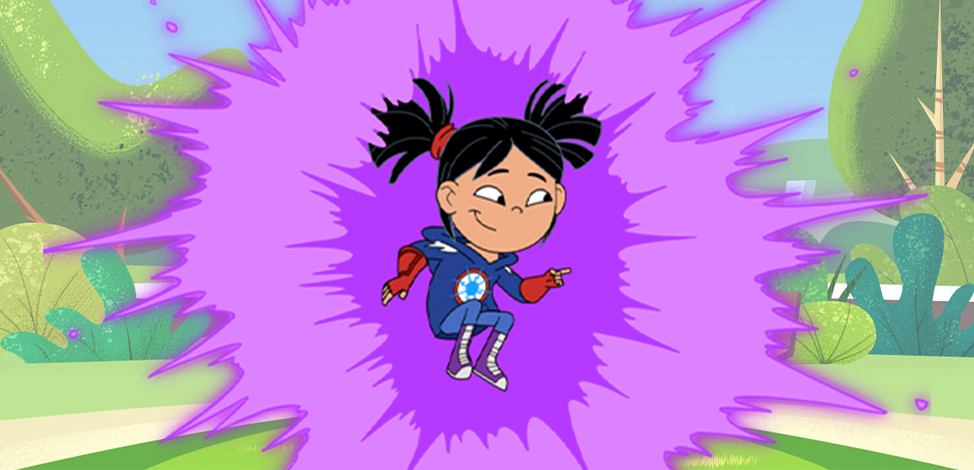 I'm Sara Snap, member of Sparks' Crew.  It's always a super day when I get to meet a new friend! My superpower is super strength….yeah, I may be tiny, but I am MIGHTY! I can't always control my strength, but that's why I'm a hero in training at Hero Elementary! It's the perfect school for me to practice my super strength, plus practice teleporting. Yup, I also have the power to teleport! Sometimes I teleport to the wrong place…like yesterday I tried to teleport to the top of the Leaping Tower, but instead I teleported to the top of Pat's Pizzeria Tower….at least it was a delicious mistake! And as our teacher Mr. Sparks always says "mistakes are wonderful, because we learn so much from our mistakes!" 
Are you a student at Hero Elementary too?! There are so many friends you'll meet here, like: AJ Gadgets, Lucita Sky, Benny Bubbles, even our super class pet, Fur Bur! We're all members of Sparks' Crew…and you can be too! Everyone at Hero Elementary has awesome superpowers, and they're all different! But hey, EVERYBODY is different in one way or another. I mean, how many kids do you know that can teleport? Or has the power of super speed? No matter what your power is, just remember that the things that make you different are the things that make you special! 
Well, it's that time of the day, gotta hurry to class….one of my favorite grown-up heroes is coming to visit, Dr. Inventorman! And I have A LOT of questions to ask him! Well, I'm sure I'll be seeing you swooping, zipping, powering through the hallways of Hero Elementary. Catch ya later! 
Well, it was nice to meet you. I know we're going to be great hero friends. And I can't wait to discover what your superpower is, together. Okay, jetting off to class, oh boy, I'm so excited! Byyyeeeeee!