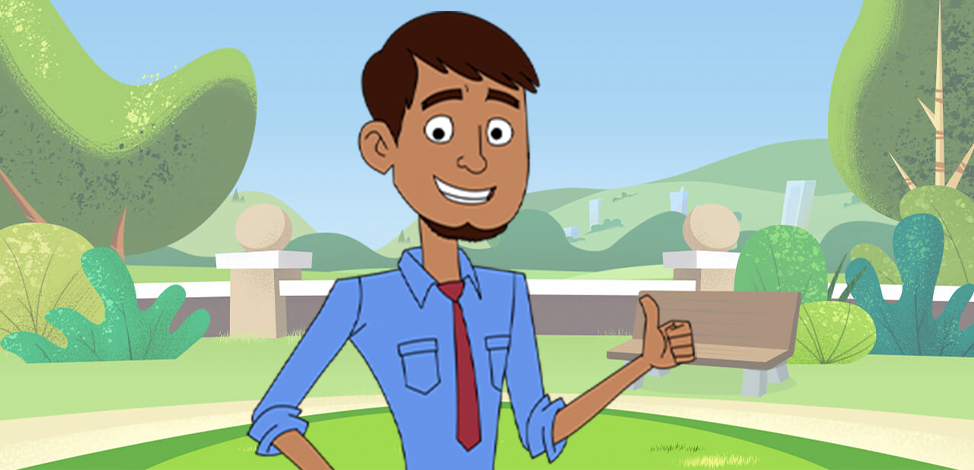 ¡Hola Young Hero!
Welcome to another day of hero training at Hero Elementary. Please, take your seat. If you don't already know, my name is Mr. Sparks. I'm a teacher at Hero Elementary, and my students are Sparks' Crew: AJ Gadgets, Lucita Sky, Benny Bubbles, Sara Snap ….oh and our lovable class pet, Fur Blur. 
I am so happy that you will be joining Sparks' Crew in their hero training today. So, who's ready to get started?!  
You brought your superpowers with you, sí? Raise your hand if you can fly! Bueno. Or maybe you have the power of super hearing? (note to actor: "super hearing" should be read softly) Fantástico! You heard me. And what about the power to….Teleport a veggie pizza? …..Oh too bad….I am kind of hungry.  Well, did you know that you have an extra set of powers ? No?…. Oh, I just love a new day of learning! 
These extra powers are the most powerful of ALL Superpowers…. And each of you have them. Yes…you too!  These powers can help you solve any problem in the WHOLE WIDE WORLD!  They're called…..the Superpowers of Science!
Why don't you try it?…Stand up….sí stand, stand! Make your BEST hero pose and say it with me….ready? 
the……Superpowers of Science!
WOW, Well done.  Now you may be wondering…. How can you use the Superpowers of Science? It's a good question and asking questions is one of the most powerful superpowers!  If someone has a problem you can use the power to observe, to see what you notice…you can look for evidence …You know, clues! You can make a prediction…. use the information that you already know to figure out what might happen next. These powers are special and they will help you be a hero and save the day! 
Even grownup heroes use the Superpowers of Science, like Dr. Inventorman! OH and Dr. Inventorman is visiting our class today. I better hurry back to the classroom. But now that you know what the Superpowers of Science are you can join any mission with Sparks' Crew, or you can keep practicing your Superpowers of Science at school, at home or with your friends. 
So grab your capes and VAMOS!