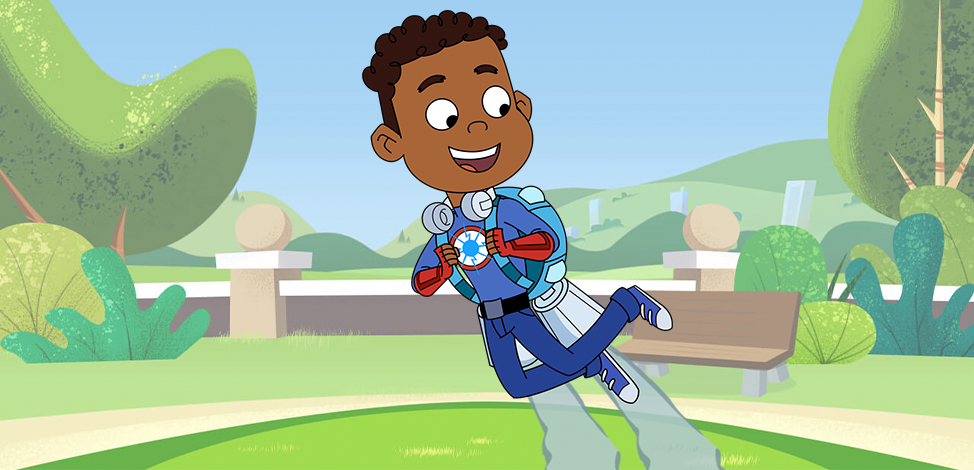 Hi There! I'm AJ Gadgets: I love making gadgets…and using gadgets….and heroes who use gadgets and all heroes in general…I love everything that has to do with heroes! I've read everything about every hero in every comic book, EVER! Comic books are history books for superheroes like me.  Like, did you know that Jetman Jones invented Jet Shoes and wore them in Issue II of the "Space Jumpers" Comic Book series? And I made a pair of Jet Shoes JUST like his: the shoe laces are the same, the boot color is the same, the turbo boosters at the bottom of the Jet Shoes are the same… I need a bit of practice to learn how to fly with the Jet Shoes on, BUT that's why I love being a super student at Hero Elementary!  
This school is the perfect place for me to practice making gadgets…use my gadgets…learn about new heroes who use gadgets AND it's a great school to meet new super friends, like YOU. By the way, what is your superpower? Super strength ? Bubble power? Do you make gadgets too?! Or maybe you're not sure yet? It's okay if you don't know what your superpower is. In the comic books I've read, some heroes don't discover their powers until they're older.  And some heroes gain their powers by mistake! Like, did you know that Hail Caesar received his superpowers after he ate a radioactive snow cone? He started hiccuping hail! So now that you're a super student at Hero Elementary don't worry about making mistakes, every hero here is still learning. Speaking of learning, I gotta jet off to class! Mr. Sparks is taking our class on a field trip to learn about Captain Bounceback! She's a bouncing hero, she has a Bounce-a-ma-bob gadget and she's always bouncing in to save the day. And Citytown is putting a statue of her in the Park today!
Well, it was nice to meet you. I know we're going to be great hero friends. And I can't wait to discover what your superpower is, together. Okay, jetting off to class, oh boy, I'm so excited! Byyyeeeeee!