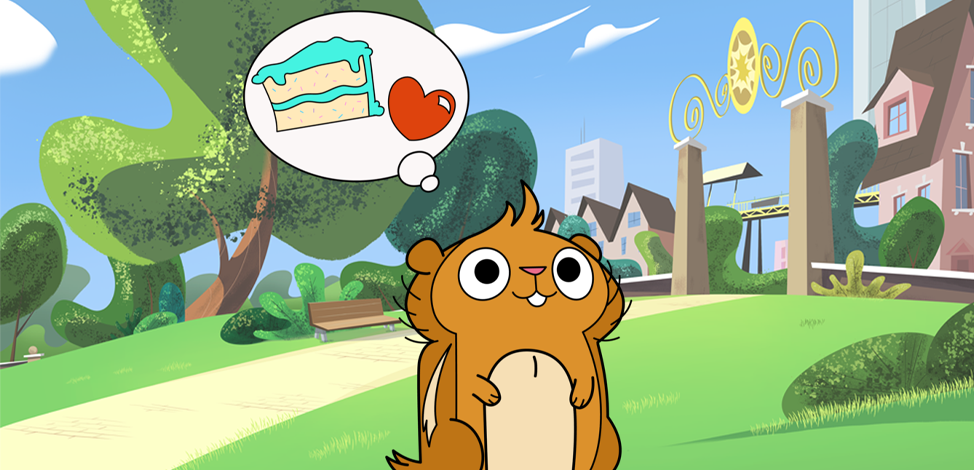 ¡Hola Young Hero!
Mr. Sparks here to announce that today is someone's BIRTHDAY!  Whose birthday is it, you're wondering? WELL…..
She's a member of Sparks' Crew, she's an expert Hero Sidekick….she's cuddly….she has the power of super speed…AND she has an EPIC appetite.  Can you figure out whose birthday it is?  Fantastico! It's our lovable class pet, Fur Blur! Wow. Way to use your Superpowers of Science to think through those questions. 
Great heroes work together, just like my students are working together to plan Fur Blur's birthday party! We're planning to have Fur Blur's party right here at Hero Elementary. 
Sara and Benny are in charge of decorating; AJ is using his Arm-O-Matic to hand out party invitations to everyone in school; Lucita and her Abuletia are baking Fur Blur's favorite, Carrot Ka-Pow CAKE. And what am I doing? Well I'm bringing the music…So get ready to dance!
What gift do you think Fur Blur might like for her birthday? That's a wonderful idea! It will be a super celebration. And knowing you will be celebrating is icing on the cake!
There's so much more to do before Fur Blur's birthday party, I better get going….Keep practicing your super dance moves! ….hasta luego!